Multivalue String Automation Property
The multivalue automation property properties allow the input of multiple System.String values either directly or by assigning variable definitions.
If a variable definition is assigned that does not provide a string value directly then the display value of that variable is used.

Set Button (Pencil Icon)
Determines whether the value of the property should be set, or retain the current or default value.
If the set button is greyed out then the property is mandatory and must be set.
Accounts
If the automation property is to enter accounts the account names are automatically resolved by the XIA Automation Server.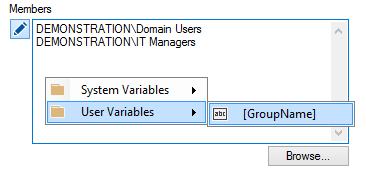 Browse
Clicking the browse button displays the account browser dialog.