Scheduler Configuration Tool
The scheduler configuration tool allows for the simple configuration of the scheduler service.
Installation Directory\XIA Automation Scheduler\CENTREL.XIA.Automation.Server.SchedulerUI.exe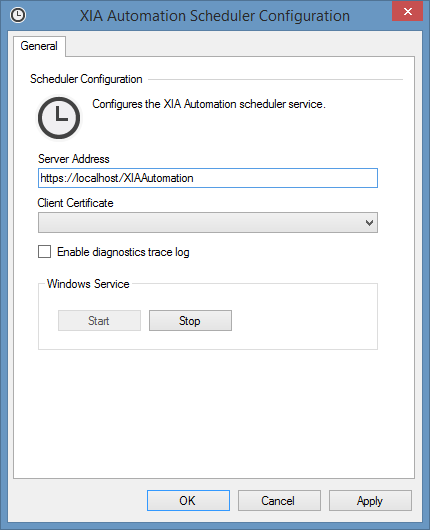 Server Address
The address of the XIA Automation Server installation.
Client Certificate
Determines which client certificate to use for client certificate authentication, if required. Only certificates that support client authentication and have the private key available will be listed. For more information see the configuring client certificates section.
Enable Diagnostics Trace Log
Determines whether the scheduler diagnostics log should be enabled for the scheduler service.
The service must be stopped and started for this change to take effect.
Service Control
Provides information about the state of the scheduler service, and allows the service to be stopped and started.