Configure SSL (HTTPS)
To configure XIA Links Server to use SSL (also known as TLS) complete the following steps.
NOTE: This section is for guidance only, for more information review the documentation for the version of Internet Information Server (IIS) in use.
An SSL certificate in .pfx format is required before proceeding - this can be generated by your network administrator or purchased from a 3rd party.
Select the server node, then double click

Server Certificates

.
Right click and select

Import.
Browse to the SSL certificate and enter the password.
Ensure that the certificate is installed.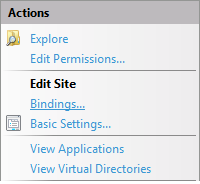 Add a new binding selecting the certificate and assign the host name as required.
Optionally remove the default HTTP binding if required.
Select

Require SSL

if required.
Ensure that the installation can be accessed from a web browser.
Set the server address as required.